If you're anything like me, you return to uni after the holidays with an exhausted body and an equally exhausted wallet. Yes, uni holidays may mean a break for our brains but they certainly don't mean a break for our wallets. In fact they mean exactly the opposite.
To deal with a significantly dehydrated bank account, I implemented my own "age-of-entitlement-is-over"-style budget. And being the generous person that I am, I've decided to share my top budget tips/life hacks with you all.
So, without further ado, I present to you part ONE of how to live life (survive) on a student budget.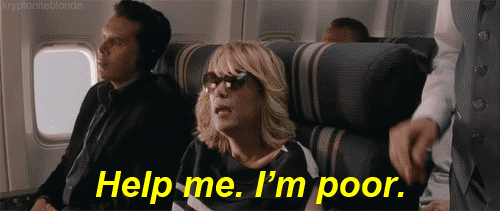 1) Food: grocery shop strategically
You may think that simply hitting up the Fresh Food People when they are having their 'down down' sales (am I getting mixed up here?) is enough to lower the grocery bill. But when you're on a student budget, relying on store-wide sales isn't enough. You have to bid adieu to those $9-a-pop fancy yoghurts and that $11 bag of nuts. My grocery list for smart student staples is as follows:- 
1 x bulk bag of carrots: $1.99 at Coles, $1.88 at Woolworths (disclaimer: this post is not sponsored by one supermarket brand over another, you can make your own educated choice on the best option here) 
Mi Goreng: $3.17 for a packet of 5 sachets, 70c for a single serving. This student staple goes a long way. I have also heard from a reliable source that if you're feeling a little fancy and want to jazz things up, garnish with parmesan for a 5 star meal… don't knock it 'til you've tried it. 
1kg bag of home brand pasta + 700g spaghetti sauce: $3.14. A humble old favourite at a surprisingly low price. 
A dozen eggs: $2.29. Breakfast, lunch and dinner sorted with one ingredient- what more could you want? 
185g of homebrand tuna: 89c. Winner winner, tuna dinner.
900g homebrand muesli ($3.29) + 1L homebrand skim milk ($1.08): $4.37. Roughly one week's breakfast sorted. Plus a few cheeky pre/post-gym feeds. 
South Cape "entertaining selections" cheese platter: $14.99. Because we're not plebians, guys. 
Stay tuned for the next edition of How to live life (survive) on a student budget… 
Coming soon to an Internet near you: how to furnish your space at a cost of $0 (literally), how to slice $5 of your coffee expense bill every 2 weeks, secret extra ways to collect cash, and why it'll save you big $$ to put a salad on your face.
Editor's note: during Anti-Poverty Week at QUT from 13 – 15 October, we'll have plenty of info and stalls for students seeking some money-realted guidance!